On tekmix.tv this past tuesday, we received a question from an audience member on how the Amazon Kindle compared to the Barnes & Noble nook. We couldn't give a conclusive answer because we hadn't done enough research on the nook.
Below is a summary of some advantages of the nook as well as a short video from the show where the Kindle is discussed.
Detailed information on nook can be found here and the Kindle info page can be found here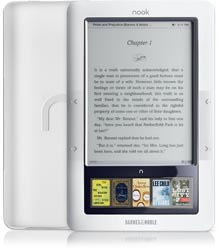 The nook is the eReader that was developed by Barnes & Noble. This is a great little device that does the job of many eReaders with a few very specific advantages
Expandable Memory – the nook will fit up to 1500 books and documents, and if more space for more books is needed, you can fit more on a memory card and plug that into the nook. This will allow for a ton more space since there are memory cards that can fit up to 16GB.
Book Lending – this is a huge advantage over the kindle for now. In our show last week, I mentioned that Amazon is working on a technology that will allow you to lend a book to someone for up to 14 days
The nook has a very impressive battery that is reported to last for up to 10 days of book reading. This falls short a week or two to what the Kindle battery lasts.
There are some key similarities between the two eReaders :
Book Selection – Both eReaders have a huge selection of books to choose from in purchasing. The nook has access to over 2 million titles and the Kindle has a library of over 750,000 books.
Electronic Ink – The nook and the Kindle are using an electronic ink technology that allows each page that is read to look like a real page in a book. This great technology is much easier on the eyes and allows for an amazing reading experience
The price difference is negligible, with the Kindle going for 139 and 189 for the Wifi model and Wifi+3G model, respectively. The nook is 10 dollars more for each of their models
dominic